We have been busy the past month with visiting family from across the pond. My husband's parents were here for a month visiting with us and we were sad to see them leave last week.
Since they left I have been a busy girl. I think I have finally talked myself into attempting to do a craft show next fall so I've started making my wares. Luckily for me this mean that they currently double as my Christmas decorations this year. I have the tree up and decorated and the mantel is finally in order. I started making my decorations about 3 months ago and my collection is mostly made of vintage sheet music and vintage books. I was both excited and a little bummed to see that Pottery Barn and Ballard Designs have also chosed that them for this year. Oh well, I guess it just means that I'm in good company.
I think I'm ready for the holidays. P.S. Why is it so hard to get a good photo of a Christmas tree...they never look are good or magical as they do in person (or in magazines)! What is the secret?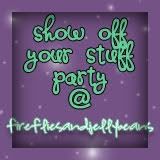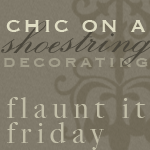 Frugal Friday at The Shabby Nest